The team at Salute Construction have over 20 years' experience in the Auckland commercial construction market. We generally operate as a subcontractor to a main contractor on large to medium sized projects.
Salute's workforce including supervisors, 80+ carpenters, apprentices and labourers carry out external and internal carpentry works including, but not limited to, roof framing, timber and steel stud external and internal framing, exterior claddings, internal linings, trims and door installation.
We typically tender, supervise and carry out subcontract works and administer the process to the satisfaction of our clients. We are a member of Site Safe and other industry organisations.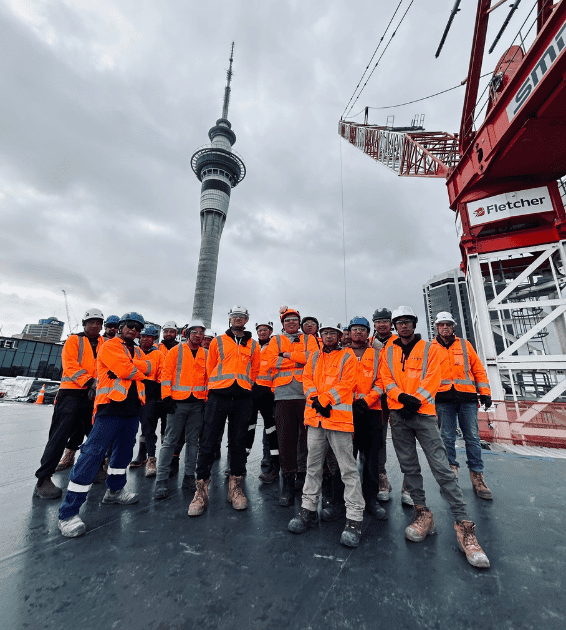 Roof, Truss and Soffit Framing Timber, Fibre Cement and Aluminium Cladding Systems Pre-Finished Internal Linings

Finishing Lines and Door Installations

Korok Fire and Acoustic Systems
"I just wanted to pass on some thanks to the team from Salute who were working on the carpentry subcontract at the Devonport Library for Naylor Love. We've been receiving great comments about the building since it was opened yesterday and the carpentry team have gone to great lengths to get the detail right. We really appreciate this approach, care and attention. Please pass on thanks to Douw who we were in contact with for all his efforts, good humour and forward thinking. He's a great asset to your team who was always ready to help and a great problem solver"
Nick Strachan, Athfield Architects.
"Last week (Tuesday or Wednesday), my nana went for a walk around the ground floor Serviced Apartments in Ellerslie. Apparently there were two guys fixing a door. Nana stopped to have a chat and as she does, shared her whole life story and recent setbacks of being ill, Grandad passing away, why her foot was in a moon boot etc. The very next day the two guys knocked on her door with a bunch of flowers and a little box of chocolates saying they wanted to brighten her day. They did not have to do this at all, but they went out of their way to make a resident's day and I truly believe they deserve for their boss to know how much this meant to that resident. I in no way expect any of our staff or contractors to be buying gifts for our residents but believe this is a lovely example of why we all love working at Summerset, it's all about the residents. This random act of kindness has changed her week and outlook on life"
Ashley Newborough, Summerset Group Holdings.
The team at Salute have delivered over 100+ carpentry packages to date and continue to be Auckland's most trusted carpentry subcontractor within the commercial market.
For general enquiries, fill out the contact form and our team will get back to you promptly. For tender enquires, please contact Curtis Harrison at tenders@saluteconstruct.co.nz